Inspiring others with my passion for handcrafting beaded chain jewelry is the goal of this website, and I hope it serves to spark the curiosity of those that seek a creative adventure.  Although I am no longer making jewelry or teaching classes, the legacy lives on as my educational books continue to encourage people to discover the quiet meditative practice of assembling jump rings.  This site is a tribute to a joyful decade of combining metal jump rings and gemstone beads in clever ways in a series of happy accidents leading to endless creative-problem-solving challenges. 
I have been blessed with the opportunity to author five educational books that guide the reader step-by-step on a beaded chain jewelry adventure.  This informative series starts at the introductory level and slowly builds upon the foundation of knowledge and technique to progress towards more elaborate designs.  The first, second, and third books only use cold-connecting techniques; without a hot torch or power tools.  The fourth and fifth books step to the next level of silversmithing by adding a simplified soldering technique to create 'gravity-defying' jewelry designs.  Review all five books and three videos.
Free tutorials on chain patterns, bead setting with mandrel-tip pliers, and making your own findings; from hammer-forging an S-clasp to using a hot torch to teardrop Argentium silver
This page has not been created yet, please be patient – thank you.
wire to make headpins, custom earring backsChain pa
elemental, fundamental, essential, elementary, primary, basic, building-block, skill building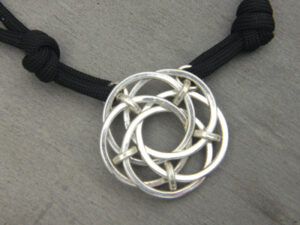 Gallery of jewelry designs over two decades of creative problem solving.
This page has not been created yet, please be patient – thank you.