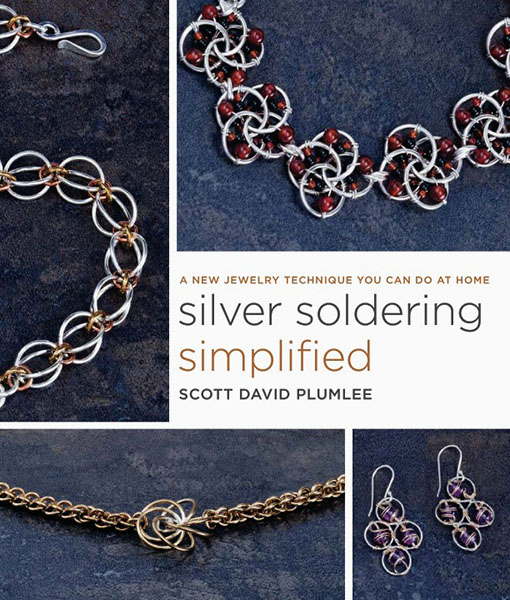 The fifth book Silver Soldering Simplified (2013), combines ancient chain designs with modern silversmithing techniques and fine-wire woven beading patterns to create unique jewelry projects.  This user-friendly guidebook details all the tools and materials needed for simplified silver soldering with a hand-held butane torch and Argentium silver solder paste in a syringe, along with detailed solutions for common soldering problems.  
We will explore weaving thin 24-gauge wire lengths into the large diameter soldered frames for the Peace Symbol series, and then slowly increase the design complexity by spiraling and soldering the 'gravity-defying' Propeller designs.  The next level spirals multiple large diameter rings within an outer frame to create the Dharma Wheel formation, completed with wire-wrapped parachute cord technique.  This book concludes by twisting a soldered oval into a Figure Eight frame between two mandrels to be embellished with a fine-wire woven beading pattern.
With this 160-page book, you will learn how to create 24 gorgeous jewelry projects designed to take your craftsmanship to the next level of silversmithing.  Scroll down to view jewelry projects, magazine articles, and customer reviews.