The second book Chain and Bead Jewelry Creative Connections (2009), takes the reader on a wire-wrapped, bead-embellished, and curiosity-fueled adventure.  This elementary-level guide explains all the necessary background before we begin, from hand tools, metal types, round wire gauges, and aspect ratio precise jump ring sizes to make a dozen chain patterns.  
We will explore the essential techniques you will need for assembling jump rings, setting gemstone beads with the Mandrel-tip Pliers, cold-forging an S-clasp, and bending identical earring backs from Argentium silver headpin wires.  Next, we will discover wire-wrapping methods that progress from precise to chaos patterns with creative connections.  Finally, we will assemble a dozen chain patterns seamlessly embellished with several bead-setting formulas to balance metal and gemstone.  
With this 160-page book, you will learn how to create 28 gorgeous jewelry projects, sure to inspire all levels of jewelry artisans to expand the creative possibilities of their work.  Scroll down to view jewelry projects, magazine articles, and customer reviews.  Click on any jewelry design image to view a larger photograph within a Lightbox Slideshow application.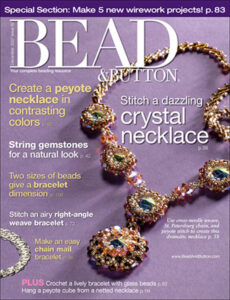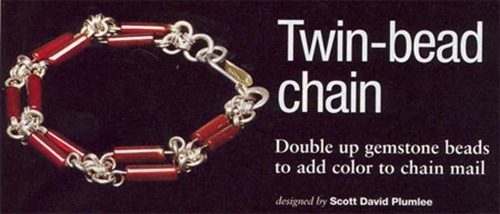 I submitting a tutorial on how to make the Twin Bracelet pattern, which was featured in the December 2007 issue of Bead & Button magazine, as well as included in the prestigious 255-page Creative Beading Book Vol. 4: The Best Projects from a Year of Bead & Button Magazine.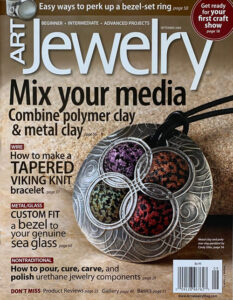 Hazel Wheaton, editor of Art Jewelry magazine, invited me to share a simple chain pattern for the September 2009 issue to promote the 2nd book.  She included a four-page tutorial on how to assemble the Infinity chain pattern.  I am quoted as saying: "Through trial and error, I struck on a design that balanced the simplicity of single, heavy rings with a more complex overlapping pattern of finer rings.  This design uses four gauges of wire, all balanced and in harmony."
Chain Mailler's Delight!
"Scott David Plumlee is an excellent teacher, and his book is big, lush and beautiful! The pictures are close-up, detailed and vivid, and there are so many to go along with every technique he is clearly explaining. He even delves into the inside diameter of a jump ring versus the wire diameter of a jump ring! He doesn't let you make mistakes! His designs are gorgeous (I especially love his "chaos wire-wrapping"). I really highly recommend this book." – Rather be at the Beach at Amazon
Chain and Bead Jewelry Creative Connections:
"Very well written and illustrated. Always enjoy this Author's books I followed the directions for several projects and was able to complete them successfully." – Peggy M. Barnette at Amazon
A 2nd fantastic book by this designer, well worth the wait!!
"I am a huge fan of his first book and had this follow up pre-ordered for a very long time. I'm so happy to report that it didn't disappoint!  You don't NEED his first book if you're new to the craft. The introductory section has great information on wire, rings, making rings, and everything you need to know to get started. The later projects all have step by step photos with clear directions. If you're a veteran, I'm pleased to say this book added a lot of information, particularly about tumbling and shining up your pieces. There's also great photo tutorials and instructions to flawlessly incorporate magnetic clasps into the design! He also includes the math and aspect ratio (AR) breakdown for more gauges per weave than he did in the first book." – N. Smith at Amazon
Excellent step by step explanations and accompanying images.
"Beautiful projects along with step by step guidance for making yourself.  Highly recommended. Excellent references such as ratios for wire to ring sizes and colour coded chain diagrams." – Amazon customer
My first Chain Maille book!
When I saw the cover of this book I was intrigued. I opened it up and was intimidated by the idea of chain maille yet truly impressed with his designs. As a beginning jewelry maker, I had not tried chain maille yet. Out of the three how to jewelry books I bought that day(modern wire wrapping and chinese knots), I found that his was the most easy to understand and my favorite book! This book has created a passion for chain maille and I ordered his first book on chain maille today to get more ideas!" – Laura W. Schindler at Amazon
I love this designer
"I love this designer, this book is very innovative and he has great ideas and detail about how to do these designs. I'm a beginner but am charged up about wire working because of his great books." – James at Amazon
Beautiful!
Beautiful weaves and easy to follow instructions / pictures. I'm really happy with this book. ^.^ I highly recommend this author, as well! – HeckinWoofle at Amazon