The third book Chain and Bead Jewelry Geometric Connections (2010), combines metal rings and gemstone beads in unique ways.  This user-friendly handbook covers the basics of hand tools, metal wire, gemstone beads, and aspect ratio precise jump ring sizes to make a dozen chain patterns.  Clear illustrations are given for the essential techniques needed for assembling jump rings, setting beads, forging S-clasps, and bending identical earring backs.  
We will start by assembling the age-old Byzantine chain sections into the Beaded Romanov and offset Serrated designs.  A Byzantine derivative, known as the Tripoli formation, will be used as the base element for building complex geometric shapes.  Three Tripolis are combined into the Incan Triangle Pendant, four Tripolis into the Flower Quatrefoil formation, and then five Tripolis into the Pentagon designs.  The book concludes with a series of organic designs that include the 6-pointed Snowflake and elusive Butterfly pendant. 
With this 160-page book, you will learn how to craft 36 geometric and organic jewelry designs from earrings and pendants to bracelets and necklaces.  Scroll down to view jewelry projects, magazine articles, and customer reviews.  Click on any jewelry design image to view a larger photograph within a Lightbox Slideshow application.

In promotion of the upcoming third book, I was thrilled to get a step-by-step tutorial on how to make the Beaded Romanov Bracelet published in the Spring 2011 issue of Wirework Magazine.
I was humbled to get a tutorial about the Serrated Byzantine design published in the October 2011 issue of Bead & Button magazine, as well as included in the prestigious 255-page Creative Beading Book Vol. 8: The Best Projects from a Year of Bead & Button Magazine.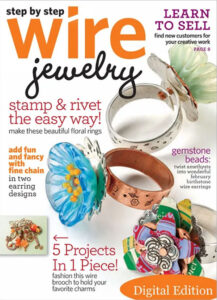 Gorgeous Jewelry with Ease
"Scott David Plumlee's third book strongly emphasizes the importance of geometric designs in chain maille patterns, not only with jump rings, but also when incorporating beads into these beautiful pieces.  Plumlee includes essential techniques, including jump ring theory, wire gauges, aspect ratio, wrapping wire, and cutting your own jump rings. Other wire techniques are covered from the proper way to open and close jump rings and how to correctly spiral rings, to making clasps, setting beads, and bending matching ear wires.  While the designs featured seem advanced at first glance, if you start from the very beginning, you should be able to design this gorgeous jewelry with ease.  Whether you're just beginning or are already experienced in chain maille, you'll appreciate this book.  The step photos are excellent, and the text is written in a clear down–to–earth manner."  – Sara Richardson, Editor for Wire Jewelry Magazine.
New Challenge with Fresh Designs
"Plumlee takes the combination of beads and chain to a new level of design.  Page after page, I found myself saying, 'I never would have thought of that!' The basics are as detailed and a thorough as Plumlee's projects, and the background is so well thought out that there is an entry point for jewelry makers of every skill level." – Tea Benduhn, Editor for B&B Magazine.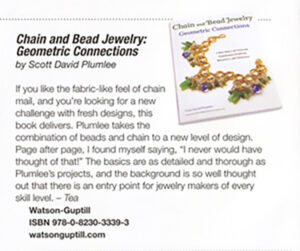 Another remarkable book by a remarkable author and craftsman
"Scott Plumlee's writing style gives you the feeling he is in the room with you. Directions are exceptionally clear and concise, including superb pictures and illustrations. Whenever, I have question about wire work or chain maille techniques, I go to Scott's book. Definitely a book to add to your library because it covers the basics and makes the more advanced techniques clear enough for beginners to follow." – Chris at Amazon
His tutorials ROCK!!
"This is the first of his books I've purchased and it doesn't disappoint. The way he writes makes you feel enthusiastic about what you are making." – Melanie at Etsy
Wonderful Chain Maille Book
"David has once again used his creative talent to produce another fabulous book.  I own his two other books and this book also has tons of information on chain maille with clear instructions and color pictures of each of the steps. Highly recommended for those who want to take their chain maille to the next level!" – The ChainMaille Lady at Amazon
I love the book!
"I love the book and can't wait to get started.  The pictures are great, and the instructions are easy to follow." – Beverly at Etsy
Amazing Chain Maille
"This book is amazing- I can't wait to make some of these projects. I love chain maille but this takes it to a whole different level. There's a lot of variety in the projects and the finishing products are stunning. The directions and clear, and the pictures are beautiful. This is a book that is staying in my library for a long time." – R. C. Murrow at Amazon
Great Book
"I just love this book. It is so easy to follow, has great information for the beginner, and some interesting uses of byzantine pattern for the more experienced user. I have just completed my first project from the book which I am really pleased with. Would recommend to anyone." – Babsso at Amazon
Great designs!
"Great designs, easy to follow instructions. Very happy with my purchase." – Julia at Etsy
Chain and Bead Jewelry
"This is a wonderful book. Scott has detailed instructions for making everything and for basic techniques and tools as well. I found this book wonderful with very easy to understand directions!" – Carmen at Amazon
Great teaching style and creativity
"I have all of Scott David Plumlee's books, and they are all great. He has a theme for each book, and starts out by teaching the basic techniques. He then expands on those techniques in very creative and inspirational ways. His designs are clean. The photography is excellent, probably the best of any jewelry-making book I've seen so far. I can't wait for the next one!" – Nancy at Amazon
Fantastic book, easy-to-follow instructions, and unique tutorials
"In this book, David adapts and builds upon the Byzantine weave, a common and (to most) easily learned weave.  He takes chain maille and adds his own special touch to it, adding beads, mixing metals, and creating his own unique designs.  I've made several of his projects in his other books, and this book continues the tradition of plentiful and wonderfully photographed instructions.  If you are a chain maille enthusiast — buy this book. It's a must-have. It will excite your imagination and give you options like you won't believe." – Lori Anderson at Amazon
Chain and Bead Jewelry
"This book is wonderfully illustrated with vivid, clear photos to help you with every written step for every project. There are an abundance of techniques used in so many designs, such as Byzantine, Tripoli formations, triangle formations, quatrefoil and trapezoid formations, pentagon formations and others. The designs are beautiful. They are inspiring. This is a high-quality book and I am happy to recommend it!" – Rather be at the Beach at Amazon
All the Answers!
"Chain and Bead Jewelry by Scott David Plumlee gives you all the answers in one place to all your questions about tools and technique in chain making and using beads to make jewelry. The book is clear, well designed, has a good index and great photos. It's the GO TO book for chains and beads." – Deepinthought at Amazon